When you experience the Pura automated booth and skin care system for the first time, you'll fall in love with how easy it is. You simply step into the booth, face forward, then turn around and step out enjoying the flawless results! You'll keep coming back for more!
With Pura, you will enjoy a warm and inviting beauty treatment session in an automated cabin designed specifically for your comfort. Whether you want a sunless tan or a brighter skin tone, you will be able to get state-of-the-art service from head-to-toe.
Sunless Tanning
Pre-Sunless Prep
Anti-Aging Moisturizing
Skin Brightening
Personalized Sessions

Come see it today at Fort Smith Tan Company!
Voice guide tells you when to change position. Easy-to-understand foot location indicators.
---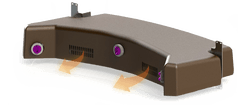 Comfort Dry Pass. Leave your spray session dry and ready to resume your day.
---
Do the following before you come in the salon for best results.
Shower and Exfoliate
Do not apply any creams or lotions
Wear loose fitting clothes
After you leave the salon wait at least 6 hours before showering.
FAQs:

Q: What is difference between Clear DHA (Standard Solution) and Bronze Solution (Bronze Upgrade)?
A: The Bronze DHA has a cosmetic or instant immediate color added to it. Think of it like a
bronzing powered or make up. With a Bronzing session you will see color wash off in the shower, however that is
just the cosmetic bronzers. The Clear DHA (if left on for 6 hours) will still develop over 24 hours at last at least 7 days.

Q: What is the Moisture Mist Upgrade?
A: The Moisture Mist hydrates and softens the skin and prolongs the spray tan results as well as help eliminate the DHA odor.

Q: How long does a spray tan take to dry?
A: When exiting the Pura unit after a session you should be dry enough to re-dress right away, thanks to Pura's
comfort dry passes.

Q: How soon after the spray tan can I shower?
A: The solution needs to stay on for at least 6 hours and will develop color over 24 hours.

Q: Is there anything that I can do to assure that I get the best spray tan? 
A: Absolutely. One of the most important things that you must do is to thoroughly exfoliate before spray tanning.
You want to get off any barrier or impurity on the skin. Wear loose clothing to your session and be sure to
wait the appropriate amount of time to shower and avoid water.

Q: How long will the tan last? 
A: Depending on the how well you maintain your skin with moisturize, avoid chlorinated pools and harsh soaps in
the shower, your tan will last at least 7 days.

Q: What if I have a very fair skin that has never been able to tan? 
A: Hey, this is exactly why the spray tanning process was designed in the first place, for people that could not tan
by any other method! 

Q: Will the spray tan come off on my clothes?
A: It depends on what solution you used. Clear solution you should not see bronzer on your clothing. Bronzer
solution you might see a little bit of cosmetic bronzers, however it will wash out!

Q: Can pregnant women get sprayed?
A: Yes, but always contact your family physician.

Q: How many times per week should I spray tan?
A: No more than 3 times in a two week period. You want to give your skin time to fade out evenly. When color is
sprayed over spots that are darker than others it gives an unpleasant look of built up color in some areas. You will
want to gently exfoliate the skin for a fresh canvas results.

Q: Will spray tan protect me from getting a sunburn? 
A: No! Spray Tanning is not the same as UV Tanning. With a spray tan your skin can still burn so when going into the sun, you must wear sun protection.